life at natural power
Holly Burnett
Sr. Vice President
When did you join Natural Power?  
I have been with Natural Power since 2015. What attracted me to Natural Power was the hands-on experience and pragmatic approach to resolving client's challenges.
What does your day typically consist of?  
As with many roles in the varied world of technical consulting, it's challenging to characterize a typical day. I may be interviewing candidates to join our growing team, reviewing final reports for clients, or introducing our business to new entrants to the industry. I'm often involved in our thought leadership activities, so I find myself preparing for conference attendance and reviewing white papers. Whatever it is, I enjoy the variety and helping to solve whatever the day sends my way.
What is the most challenging part of your role? 
I would say the most challenging part of my role is balance. Managing internally focused and client-focused initiatives, splitting time between near-term and longer-term objectives, carving out time to keep a finger on the pulse of the industry, and making sure lower urgency items are not inadvertently dropped is a constant challenge. The ever-changing dynamics of this role keep me energized and engaged.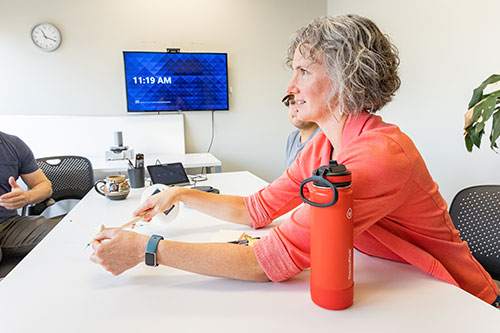 What is the most interesting type of work you have done and why?  
The most interesting work I have done has involved novel applications of existing expertise to provide solutions to clients. For example, adapting pre-construction wind turbine site suitability evaluation tools to assess the remaining useful lifetime of operational assets, or developing a shadow flicker analysis tool and method before such a thing existed more broadly in the industry.
I have gotten the most memories out of field work and site visits, while conducting site screening for potential development or visiting projects under construction or in operation. I enjoy discovering nooks of the world I would otherwise not have seen and meeting the passionate individuals working across the renewable energy sector.
Provide a hidden talent or quirky fact about yourself!?  
I've been an F1 fan since well before Drive to Survive came out on Netflix. I'm doggedly determined.