life at natural power
Caol Cardno
Inspections engineer
When did you join Natural Power?
My journey started with Natural Power in July 2022 having previously gained years of experience in other industries such as oil and gas and the motor trade. The roles I undertook in these fields were gas turbine, gas compressor and specialist vehicle technician which have allowed me to transfer into the exciting industry that is renewable energys.
What does your role entail?
My role at Natural Power is delightfully varied, having the chance to utilise my skills in the wind and solar industry. From the communication with clients at the start of projects right through to the physicality of climbing wind turbines across the globe and my ever-expanding IT skills to create detailed reports for various services, are just some of the day-to-day tasks which I carry out. I would like to think my work improves the efficiency and sustainability of the various industries by identifying opportunities for optimisation and implementing new technologies.
What are the most rewarding and challenging parts of your role?
As an inspections engineer, the most rewarding part of my role is knowing that I'm helping to promote clean energy and reduce the reliance on fossil fuels. Additionally, I find it encouraging to see the tangible impact of my work in the form of potential improvements in turbine and solar performance alongside reduced maintenance needs. On the other hand, some of the most challenging aspects of my role include having to navigate the logistical and safety challenges of working on wind turbines and solar projects as well as staying up to date with new technologies and regulations in the field.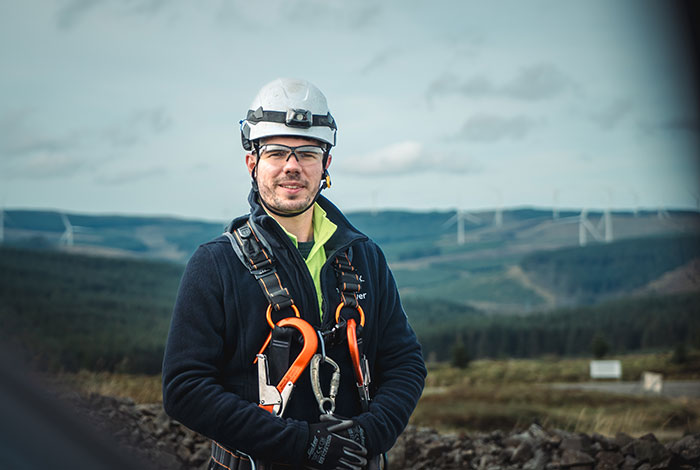 What is the most interesting inspection project you have undertaken and why?
The most interesting project I have undertaken so far is an auto lube retro-fit installation at a wind farm. For this project a thorough assessment of the turbines had to be completed to determine the best way to install the lubrication system, as well as to develop a plan for implementation without disrupting the normal operation of the turbines. Along the way some challenges were faced such as finding the right equipment and materials, dealing with unexpected issues during installation and ensuring that the system was functioning correctly after being installed. This was a long-term project but the final product can now help to improve the lifespan and performance of the turbines, ultimately contributing to a more sustainable and efficient energy system with some second to none experience gained along the way.
Provide a hidden talent or quirky fact about yourself!?
During my time at Natural Power I have started to appreciate other forms of energy and partake in track days on various circuits around the country.