life at natural power
Chris Pendlebury
Director of Offshore Planning & Environment
What does your role entail?
My role at natural power has changed recently to become more offshore focused as I take on the role of Director of Offshore Planning and Environment. This means I will now be responsible for the whole offshore P&E team, as well as maintaining responsibility for the Geospatial and International Environmental Advisory teams. Overall my role involves working with our global team to deliver on our projects.
What does your day typically consist of?
If I am heading into the Stirling office then the day starts with a cycle. I do like to plan what I'll be doing for the day over a cup of coffee, and get everything prepared for any meetings I have coming up. The day is then likely to involve working with the team either on one of our client projects, talking to clients about current or upcoming projects, or working on an element of strategic planning for the department. As you would expect, no day is the same as another, and I like this variation.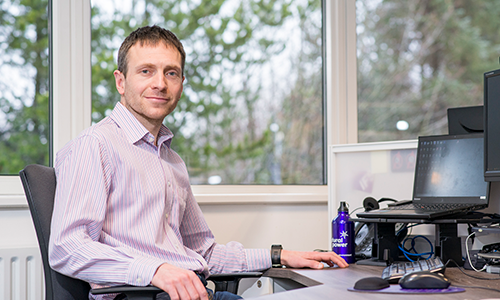 What do you enjoy most about your role?
My change in role is allowing me to do more of what I enjoy the most, and that is working with my Natural Power colleagues to deliver on projects for our clients. My background is in the provision of bird advice, having done this for wind projects for the best part of 20 years. The elements that I probably enjoy the most are discussing the projects we have with the team to come up with solutions for our clients.
What is the most interesting project you have worked on and why?
There has been lots of interesting projects during my 12 years at Natural Power, so I will pick two ongoing ones. We are currently providing ornithology services for two ScotWind offshore wind projects: the Buchan and Mara Mhor sites. What I find most interesting is getting into the detail of the analysis and determining what this actually means in terms of impacts on specific populations for the project, so we can then base our advice on this.
What is your biggest achievement at work?
I would say my biggest achievement is simply having a role that I enjoy doing, with a team that I enjoy working with, for a company that I admire and want to be involved in making successful.